Thursday, 24 November 2016 02:53
A Tale of Travel, Adventure, and Love Featured
Written by Mae Steele
"Dogs are our link to paradise. They don't know evil or jealousy or discontent. To sit with a dog on a hillside on a glorious afternoon is to be back in Eden, where doing nothing was not boring–it was peace"
Benson was born on the 22nd of August into a litter of eleven, black, labrador retriever puppies on a nearby farm. It was Rich's mother's idea to get a dog, so she, him, and his sister all went to visit the puppies. The little dogs all scurried around and hid because they were scared of the unfamiliar, towering humans, but one little dopey guy ran straight up to them.
He was the chosen one.
This little one had the biggest paws of the litter, which meant, as Rich already knew, he would be the largest. After a week, the brave pup was able to go home with Rich's family. All of Benson's brothers and sisters were gun dogs and born from a pedigree gun dog family. Rich would soon discover that Benson would be the worst gun dog in the world.

"I don't believe a dog should be born into a career. He should have his own choice."

Rich trained Benson himself and treated him like a person, not a dog. Rich comically adds that Benson has therefore grown up thinking that doggy rules do not apply to him. For example, he always sits in the front seat of the car.
"That's his spot. As a puppy, he used to only sit on my lap while I drove, but when he got too big, the passenger seat had to do. I sometimes have to ask people to ride in the back because Benson keeps trying to get in the front."
Benson grew up in the beautiful countryside at the foot of the highlands. He was spoiled with sloping mountains, lush forests and scenic bodies of water. From a young age, Benson was exposed to the delightful doggy-wonders of the world and enjoyed splashing in rivers, chasing sheep, and sprinting down mountainsides.
Rich tries to take him everywhere. "Being self-employed is great because Benson can almost always be by my side. Since he was a pup, he has grown accustomed to following me everywhere. Whether it is sleeping at my feet while I edit, following me up a mountain while I take photographs, or joining me on a morning run, he is always my wingman. He has also come along on a few film shoots. I think he has grown up with the idea that he is human too. He is always more interested in meeting my friends, as opposed to meeting other dogs."
At the age of six months, Benson began his first big adventure with Rich. The pair moved to Glasgow in the United Kingdom and Benson was then introduced to big-city life. In Glasgow, there are lots of parks for long walks, which the pair enjoy together on a daily basis. Glasgow also offers numerous dog-friendly bars, although Rich always does his research to ensure that his four-legged bloke can enjoy the day or night with him. These two pals often go for lunch and a pint of beer together. In fact, Benson's favorite drink is Guinness, but Rich cautions that he only gets a little taste.
Experiencing big-city life during the week is enjoyable, but Rich tries to treat Benson with big adventure on the weekend. Benson loves the water, so the two frequent nearby rivers or Lochs. "It doesn't matter what time of the year or what the weather is like because, in Scotland, it is very unpredictable, and, to be honest, neither me or Benson care. We both equally embrace the elements and enjoy it." And although Rich prefers to visit new locations as often as possible, which sometimes means a lot of driving, Benson is the perfect roadtripper and simply gets comfortable in the passenger seat or crawls into the backseat for a power nap. Rich explains that Benson is very content while driving because he knows that, more often than not, there is a lot of fun waiting on the other side of the car ride.
Besides being a professional roadtripper, Benson is also a world traveler. This pooch has travelled all over Scotland, stayed in ancient castles, climbed some of the highest mountains in the United Kingdom, surfed in the Isle of Lewis, snowboarded in the Cairngorms, and torn up the beaches of the Isle of Skye. Next on the list for these two handsome fellows is exploring more of Europe. Although Rich has traveled quite a bit, he does not believe it is fair to take a dog on a plane because of the noise and stress; he prefers to drive places so that Benson can join him. "I really want to introduce him to dogs on the European continent and see how he copes with learning different languages ☺."
Some may be wondering about the reactions that Rich gets from taking his Guinness- sipping, wanderlust doggy with him everywhere. Simply put: people love Benson. In fact, Rich has grown accustomed to people pointing and smiling at the them, especially while Benson casually sits and gazes out of the passenger seat of the car. When Rich takes him into places and events, people are usually more pleased to see Benson than him and certainly always greet Benson first. Rich muses that he has grown used to living in his furry pal's shadow, but loves it. "Benson is the most exciting friend in my life and deserves to be the center of attention." Folks have grown accustomed to these two coming as a pair and are even disappointed when Rich shows up solo. "Sometimes I wish Benson could speak, and the DVLA [Driving and Vehicle Licensing Agency] would let him drive so he could just go catch up with all of his followers and let me get on with work."
Benson does so well in the world because he is a natural traveler. He loves to explore; it is in his nature. He will never run away though; he just runs to the point of Rich still being in sight. Moreover, Rich has trained Benson all the basics: sit, lie down, roll over, stay, and high five (which Benson accomplishes by jumping up and tapping one's hand with his nose). Benson is also skilled at responding to over there, a command at which he goes in whatever direction Rich is pointing
With so many wonderful adventures, it is difficult for the pair to choose a best trip. Rich explains that it is all of the little moments from each trip that are memorable and make traveling with Benson such a fun experience. For example, on Benson's first birthday, Rich took him up his first mountain. This was one of the most special trips the two shared together. Rich could physically see the excitement in Benson's face and the wonderment as he looked around at all the amazing views from the mountain peak. "When Benson gets to the top of a mountain, he always gets very excitable and begins sprinting around in circles. I don't know if it is the altitude, wind, or because he realizes he can't go any further, but he tends to go nuts, in a good way." On his first birthday climb, the duo made it to the top, and Rich treated Benson to some salmon and cucumber sandwiches, while they both enjoyed the stunning view of Loch Lomond. Rich also took this opportunity to snap a quick birthday photo for Benson's album, so he brought along a birthday hat for him.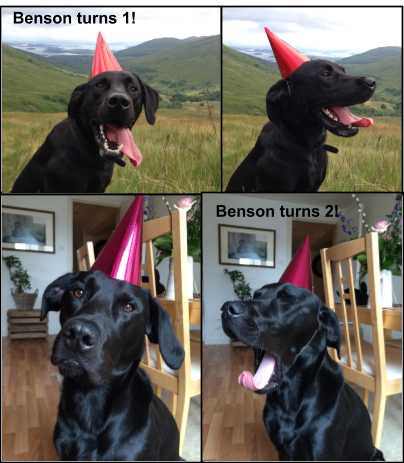 One of Rich's fondest memories of traveling with Benson happened recently. It was a very cold, rainy night in Glasgow, and he had a craving for something sweet, so Rich decided to take his new bicycle and ride over to the shops for a treat. Benson had never accompanied him while he cycled, so he was not exactly sure how it would turn out. It was very late, and the streets were quiet, so Rich did not bother with a lead, and off they went! At first, Benson kept trying to jump up on Rich as he cycled, but once they got going and Benson got used to the idea, he loved it. He ran at full pace next to Rich. The two were like a pack of dogs racing through the city. "It was just like a scene from a film, and the heavy moonlit rain just added to the experience."
Although traveling has been rewarding and unregrettable, there have, admittedly, been some challenging moments for these two friends. "The most challenging trip has to be when we traveled north to the Island of Lewis for a surf trip. We had to take Benson on his first ferry trip. The ferry was a large ship that carried vehicles and had a top deck with a few bars and a canteen." Rich recalls that although there was a special place for people with dogs, it offered no comfortable seats and was dimly lit. "Benson is a human anyway, so we just ignored the signs and took him where we wanted to go." It was the first time Benson had been on a large boat, and the journey was four hours long on stormy seas. "Benson began to yelp because he couldn't understand why everything was moving. After a lot of reassuring and belly rubs, he got his sea legs." Dogs were not permitted in the canteen, which made it difficult for those with furry friends to eat. "...We smuggled Benson in, and he just slept under the table, out of sight from the waiting staff. Luckily, he is a very quiet dog and rarely barks; however, he is also a very excitable and happy dog, so once the waiter got closer to the table, the sound of Benson's wagging tail hitting against the chair grew louder. Before the waiter could fathom where the sound was coming from, I grabbed his tail and tried to pretend I was sitting casually, without a massive happy labrador beneath me. I also had my foot pressed firmly on his lead because he was trying his best to pull away from cover and see what Mr. Waiter had on his food tray." Thankfully, the efforts to keep Benson incognito worked, and they successfully made it to Lewis.
To ensure that lovely Benson is comfortable when he travels, Rich always brings along Benson's essentials, such as his bed (or a comfy alternative), water bowl, and an emergency portion of food, should they be out too long and get hungry. Usually the emergency portion of food is not needed since Benson dines with the humans, and Rich feeds him rice and plain tuna. "I try not to spoil Benson too much as I think it is important to maintain a bit of discipline, especially with his diet.I hate when I see overfed dogs on the street. It is not fair for the pooch, as dogs will just keep eating. They need a nutritionist. He [Benson] is a very smart dog, and if I don't keep tabs on him, he begins to get cheeky." For example, every time the two visit home, Benson seems to think that there is a different set of rules. He jumps up on the kitchen counter and eats anything that he can sniff out. Rich explains that this is all because his mother encourages Benson to jump up for food. "She feeds him anything and everything. Sometimes I wonder why I wasn't raised into a very fat child."
When travelling with one's pet, Rich advises that it is important to start small. "You need to make sure your pet is okay with long journeys. Make them comfortable." For example, Benson only likes being up front in a vehicle, but sometimes that is not the most comfortable option, so Rich will often cram a backpack or whatever he can find into the footwell to create more surface area upon which Benson may sleep and rest. Rich advises thoroughly exercising one's furry friend before travel and explains that he always makes sure to get up early enough to take Benson on a walk before any long journeys. Additionally, Rich recommends that it is very important to hydrate one's dog and keep a window open [when in the vehicle, travelling -- not leaving one's dog unattended in a vehicle, of course; that is never advised]. Rich cautions that some forget about a poor, overheating dog while driving long, cold, winter routes with the heating on full. Rich often just drives while wearing his jacket and does not mind it being cooler in the car, so long as Benson is comfortable and content. Comically, Benson likes to wear sunglasses in the car when it is too sunny, so that is an item that Rich always keeps handy, although he admits that this aspect is different for everyone and is at the dog's discretion."I think as long as you have the essentials -- food, water and a comfy bed or padded blanket -- then the world is your oyster. Just keep tabs on your little buddy, and make sure they are having fun and look content."
Besides traveling, these two buds do most things together. They exercise together and go running; Rich has a special lead that ties around his waist. They eat together; Benson frequents the local dog-friendly pubs, where the bar staff always give him a bowl for his water and some snacks as Rich eats and does work on his laptop. They sleep together and regularly nap on the couch while watching movies. "Not y adventurous, but sometimes we like to chill. We also have breakfast together every morning. He LOVES bananas and so do I. I usually have a banana every morning and so does Benson, so we have the morning tradition of eating our banana before seizing the day." And seize the day, they do! Whether it is savoring their breakfast, surfing the coast, climbing a mountain, or romping through the city, this awesome dude and his four-legged best friend are truly exemplary of what it means to live life to fullest with a wanderlust autiful heart

Mae Steele - Writer - A fire performer, mermaid, stilt walker, wedding officiant, poet, and former high school English teacher, Mae just attained her master of arts degree in English at California State University, Stanislaus, and is currently working as the lead ESL (English as a Second Language) instructor at a local university in the central valley where she teaches students from both China and Vietnam. Mae is quite popular with the Daily Vibez viewers. She has a way with words, draws her readers in, and entices them to want more!
Latest from Mae Steele